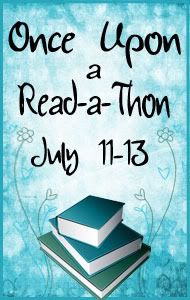 Once Upon a Read-a-Thon hosted by
Reading Angel
,
Candace's Book Blog
, and
Pure Imagination
has officially begun! This is the first time I've participated in this event and I'm super-excited! I'm hoping to finish
at least
3 books over the course of these three days, and read 900+ pages. The books I'm hoping to read:
Finish The Cypress House by Michael Koryta
The Last Letter from your Lover by Jojo Moyes
Turn of Mind by Alice Laplant
The Language of Flowers by Vanessa Diffenbaugh
Luckily, I think I can accomplish my goals thanks to my husband being such an understanding guy (plus it gives him a chance to play all the video games he wants). During this time, my posts will pretty much be read-a-thon focused so I don't get distracted from my reading...but I'll catch-up on my reviews and such next week! Also, I'll be tweeting my progress throughout - for those of you who aren't already twitter followers you can see my reading advancement via my handle @NoPgLeftBehind.